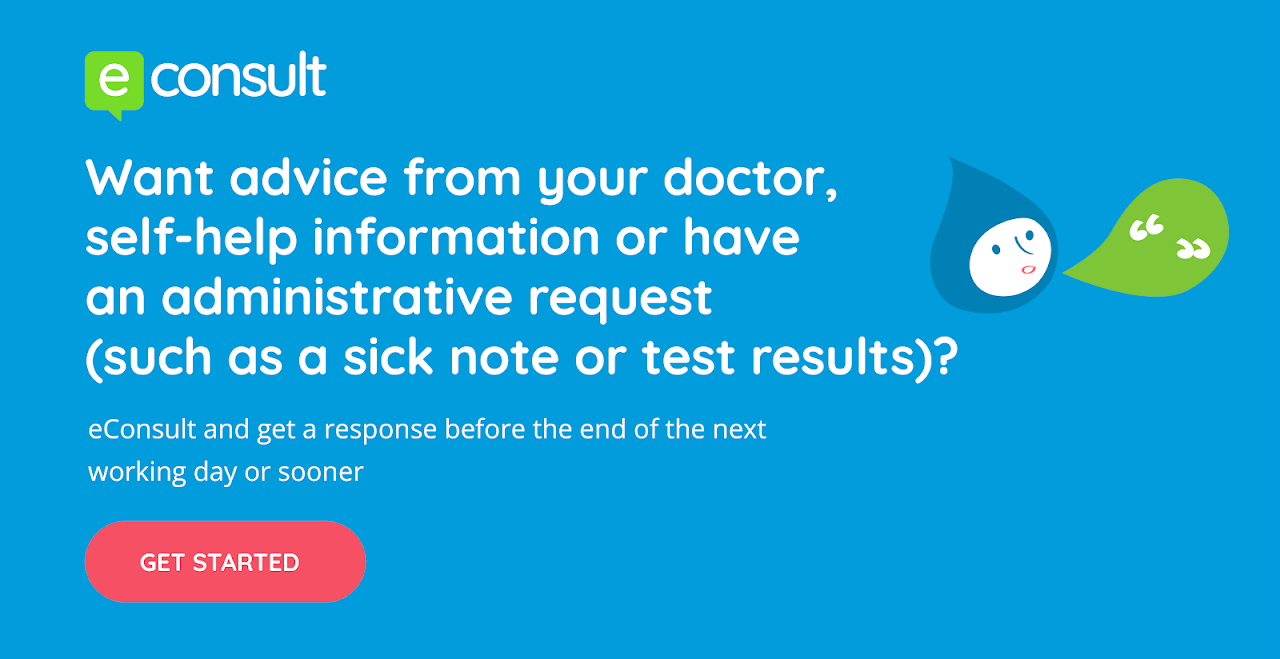 EXTENDED HOURS
We are collating views on how best to deliver the Extended Hours that NHS England require us to provide. Please complete this very short survey.
We are also sending this link to patients for whom we hold a mobile number. Please be assured that this is a genuine request.
Thank you
Extended Access Survey (google.com)
Practice Hours
When We Are Closed
When the practice is closed, if you need medical assistance before the practice reopens, please call 111.
Please only ring the out-of-hours number when the practice is closed (between 18:30 – 08:00 Weekdays and between 18:30 Friday and 08:00 Monday).
Out-of-hours services are generally busy so please think carefully before asking to see a doctor and only do so if you genuinely cannot wait until the surgery re-opens.
In a genuine emergency you should call 999. Chest pains and / or shortness of breath constitute an emergency.
The practice is not open to routine telephone calls and enquiries between 13:00 and 14:00. If you need to urgently speak to a GP between these times please call the practice and you will be diverted to our emergency doctors service.
If you need to speak to us routinely please call between 08:30 and 13:00 or 14:00 and 18:00.
**NOTICE AUGUST 2022**
Please be aware that the Claypit Street Site is closed on a Wednesday, Thursday during August.
Additionally, the site will be closed on:
Friday 19th August
Friday 26th August
Please contact the Bridgewater Site for any appointments or queries.
Welcome
Prescription Ordering
From the 1st September 2021 we will no longer accept repeat prescription requests via our surgery email address.
*You can use this e-mail for the following reasons ONLY: If you are from a carehome, ordering your contraceptive pill or are on fixed date ordering.
Please use the instructions below to order your repeat prescription.
For patients registered with a Shropshire GP practice, you can e-mail: shropshire.pod@nhs.net
You will receive an auto-response and you will be asked to provide ALL of the following information in your request.
If it is not included, we cannot guarantee that it will be processed:
Registered GP practice:
Full name:
Date of birth:
First line of address:
Name of drug, strength, dose and formulation (tablet, cream, inhaler etc):
How many days of each medication you have left:
Nominated pharmacy:
Your contact number:
If you are ordering on behalf of someone else, you also need to provide the following information:
Your name:
Your relationship to the patient:
The POD team does not store or hold your personal data, so it is important that you provide all of the relevant information in every request. Without this, staff may be unable to process your request.
Once processed, you will receive a confirmation and your prescription should be available to collect at your nominated pharmacy within four working days.
If POD staff need to contact you with any queries regarding your medication request, they will do so on the contact number you provide in your email. If they are unable to contact you, a reply email will be sent.
The email inbox is only monitored during POD opening hours. If your medication request is received Monday to Friday (exc. bank holidays) between 8am and 5pm, we aim to process it within 24 hours.
If your request is urgent (required within 24 hours), then please call POD directly on the following number: 03333 583 509
COMMUNICATION UPDATE
The practice regularly uses MJOG and ACCURX to send text messages to patients and most people are familiar with these services.
ACCURX also allows the practice to email you securely and we will be using this facility as part of our communication strategy.
We want to let you know what the email from the practice looks like so you can be assured this is not spam mail.
The subject message will state 'Churchmere Medical group has sent you a message'
The email address will read as ACCURX1, NO-Reply (ACCURX LIMITED)
'Please do not reply to this email address as it will NOT be delivered to your practice'
MY PLANNED CARE PATIENT DIGITAL
The NHS has recently launched the My Planned Care Patient Digital which gives you direct access to the latest average wait time information for your trust, as well as helpful advice and support whilst you wait.
We encourage you to look at this site where you may find the information you need before contacting the hospital for an update about any elective procedures you are waiting for.
Updated weekly, the site is easy-to-use and is 'open-access' so your carer, friends,relatives,and your NHS team can also access this information.
Care Quality Commission
The Care Quality Commission is an executive non-departmental public body of the Department of Health and Social Care of the United Kingdom. It was established in 2009 to regulate and inspect health and social care services in England.
The CQC monitor, inspect and regulate services to make sure they meet fundamental standards of quality and safety and publish what it finds, including performance ratings to help people choose care.