26th Feb 2021
First Contact Physiotherapist
We will have a limited number of appointments available on Tuesday and Thursday afternoons at Churchmere Medical Group for our First Contact Physiotherapist.
The role of the First Contact Physiotherapist (FCPs) in Primary Care is to assess patients with soft tissue, muscle and joint pain and to decide on the most appropriate management pathway. FCPs are physiotherapists with expertise in the assessment and management of Musculoskeletal (MSK) conditions.
Conditions included:
All soft tissue injuries, sprains, strains or sports injuries
Arthritis – any joint
Possible problems with muscles, ligaments, tendons or bone, eg: tennis elbow, carpal tunnel syndrome, ankle sprains
Spinal pain including lower back pain, mid-back pain and neck pain
Spinal-related pain in arms or legs, including nerve symptoms, eg pins and needles or numbness
Post-orthopaedic surgery
The physio will:
Assess you and diagnose what's happening
Give expert advice on how best to manage your condition
Refer you on to specialist services if necessary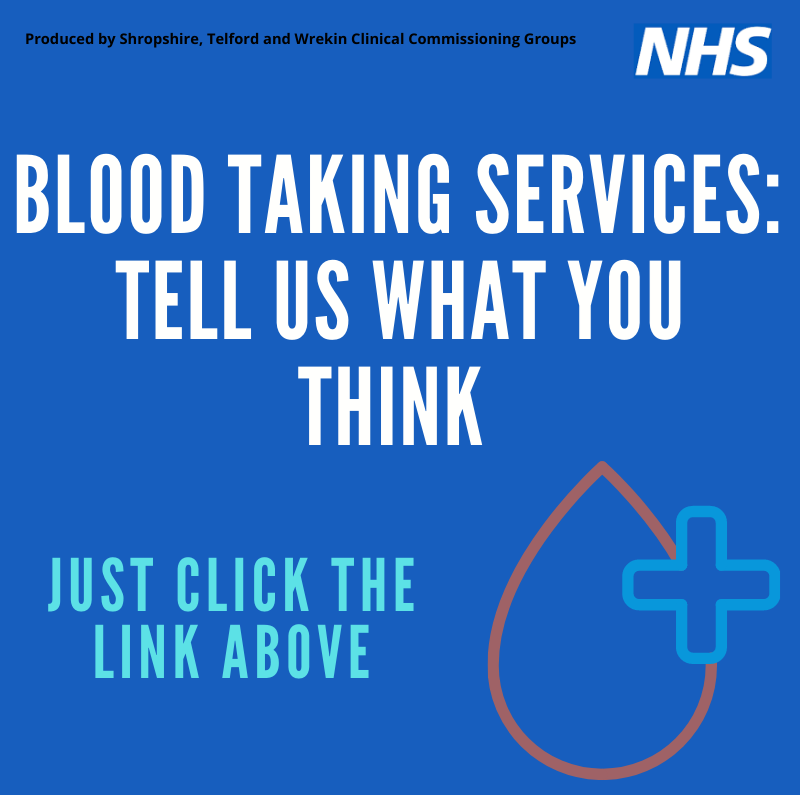 12th Feb 2021
Share your Experiences of Using NHS Blood Taking Services in Shropshire, Telford and Wrekin
NHS Shropshire, Telford and Wrekin Clinical Commissioning Groups (CCGs) have launched a new patient experience survey to gather patients' views on the current blood taking service. If you have either used the service during the COVID-19 pandemic or before then please take the time to fill in the survey. By taking part, you will be contributing towards making the service work the way it should for people that are using it.
To share your view click on the following link: https://www.surveymonkey.co.uk/r/8JPTBNQ. You can also call 07870 973241 for assistance in completing the survey or request a paper copy and freepost return envelope from the CCGs.
Thank you
3rd Feb 2021
Whitchurch Practices to Merge in April Announce Shropshire Health Bosses
Whitchurch Practices to Merge in April Announce Shropshire Health Bosses
Two GP practices in Whitchurch are set to merge from the beginning of April say health bosses at NHS Shropshire, Telford and Wrekin Clinical Commissioning Groups (CCGs).
Dodington Surgery will merge with Churchmere Medical Group, following the announcement at the end of 2020 that Dodington Surgery will close at the end of March 2021 when the senior partners will retire.
Health commissioners are currently notifying patients that they will be automatically transferred to the Churchmere Medical Group patient list and that no action needs to be taken.
Churchmere Medical Group will now take on the 5,000 registered patients at Dodington Surgery. Patients will continue to access services in Whitchurch from either the Bridgewater or Claypit Street sites, both of which are based in in the town.
Patients currently registered at Dodington Surgery are reminded that an official letter from the CCG will be posted out to addresses shortly which will explain in detail the plans.
Drs Clayton and Rogers, along with the staff at Dodington, will continue to provide all GP services to their patients until 31 March, 2021, when the practice will officially close.
For anyone who requires advice in relation to this matter, the Patient Advice Liaison Service (PALS) is available for queries. Patients should call 0800 0320897 or e-mail: SHRCCG.CustomerCare@nhs.net.
Dr Julian Povey, Joint Chair of Shropshire, Telford and Wrekin CCGs, said: "Following discussions between the practices, our partners and the CCG, we are pleased to announce the merger of Dodington Surgery and Churchmere Medical Group. This is the best outcome for patients and will mean less disruption for all involved.
"The CCGs are in regular contact with practices in the area and are providing the relevant support at this time. We would like to reassure all patients at Dodington and Churchmere that plans are in place to make the transition as seamless as possible.
"Patients are also advised that further information will be shared via an official letter and that no action is required on their part."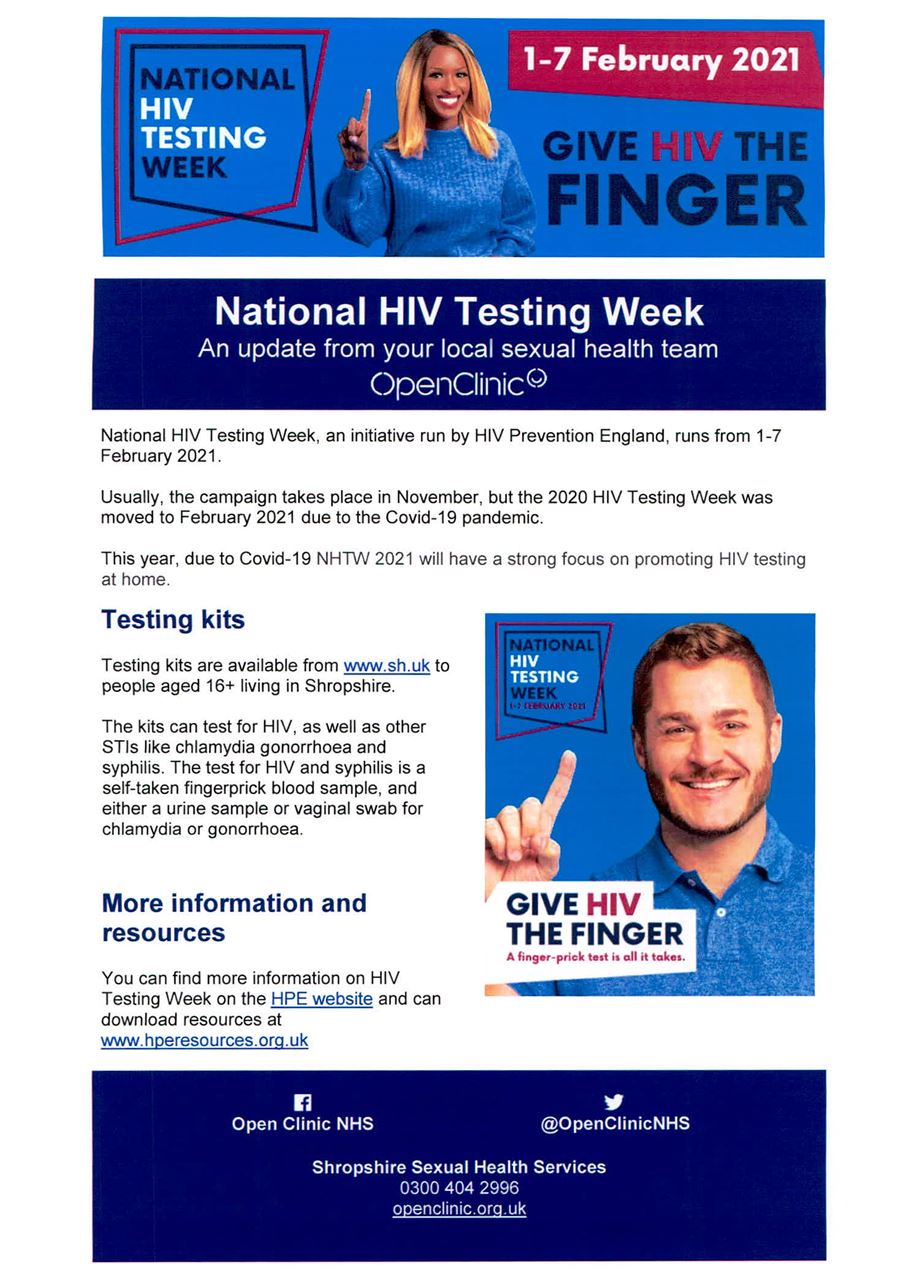 28th Jan 2021
Shropshire National HIV Testing Week - An update from your local sexual health team OpenClinic
National HIV Testing Week, an initiative run by HIV Prevention England, runs from 1-7 February 2021.
Usually, the campaign takes place in November, but the 2020 HIV Testing Week was moved to February 2021 due to the Covid-19 pandemic.
This year, due to Covid-19 NHTW 2021 will have a strong focus on promoting HIV testing at home.
Testing kits
Testing Kits are available from www.sh.uk to people aged 16+ living in Shropshire.
The kits can test for HIV, as well as other STIs like chlamydia gonorrhoea and syphilis. The test for HIV and syphilis is a self-taken fingerprick blood sample, and either a urine sample or vaginal swab for chlamydia or gonorrhoea.
Shropshire Secual Health Services
0300 404 2996
openclinic.org.uk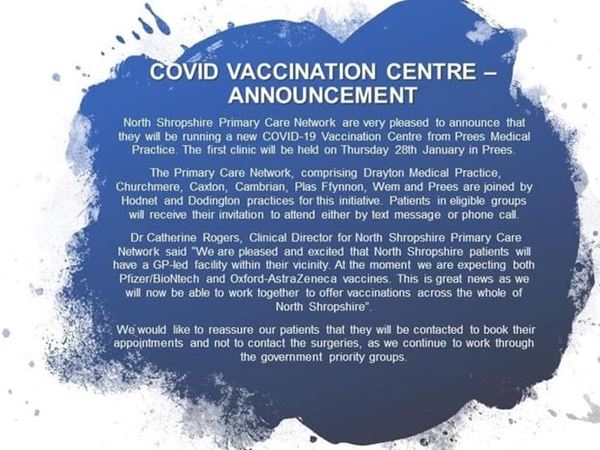 25th Jan 2021
Covid Announcement
COVID VACCINATION CENTRE – ANNOUNCEMENT
North Shropshire Primary Care Network are very pleased to announce that they will be running a new COVID-19 Vaccination Centre from Prees Medical Practice. The first clinic will be held on Thursday 28th January in Prees.
The Primary Care Network, comprising Drayton Medical Practice, Churchmere, Caxton, Cambrian, Plas Ffynnon, Wem and Prees are joined by Hodnet and Dodington practices for this initiative. Patients in eligible groups will receive their invitation to attend either by text message or phone call.
Dr Catherine Rogers, Clinical Director for North Shropshire Primary Care Network said "We are pleased and excited that North Shropshire patients will have a GP-led facility within their vicinity. At the moment we are expecting both Pfizer/BioNtech and Oxford-AstraZeneca vaccines. This is great news as we will now be able to work together to offer vaccinations across the whole of North Shropshire".
We would like to reassure our patients that they will be contacted to book their appointments and not to contact the surgeries, as we continue to work through the government priority groups.
20th Jan 2021
Changes for Dispensing Patients
19th January 2021
Changes for Dispensing Patients
We need to inform you of some changes within our dispensary, these changes are to en-sure we are able to operate safely whilst meeting patient's expectations. Things are par-ticularly challenging for everyone throughout the COVID pandemic and we thank you for all your support.
From 1

st

February 2021 our prescription turnaround time is increasing to 96 hours (4 days). This means you will need to order your medication 4 days before you are due to run out.

From 1st February 2021 we will text you to inform you of when your medication will be ready. If you would like this service and we do not currently have your mobile number please call the practice and was can add it to your record.

From 1

st

March 2021 we will no longer be ordering repeat medication on behalf of our patients. Therefore you will need to order your own medication using one of the below methods. This is an NHS recommendation to help reduce wastage and ensure patients are getting the medication they require each month.
How to order:
Email: shropshire.pod@nhs.net

Telephone: Prescription Ordering Direct - 033 33 583 509

Using Patient Online Access (please speak to one of our Patient Services Advisors to request an application form)
If you have any questions please do contact the practice.
Once again, thank you for all your support.
Yours Sincerely
Churchmere Medical Group
7th Jan 2021
Shropshire, Telford and Wrekin COVID-19 Vaccine Rollout: Please Wait to be Contacted - Shropshire CCG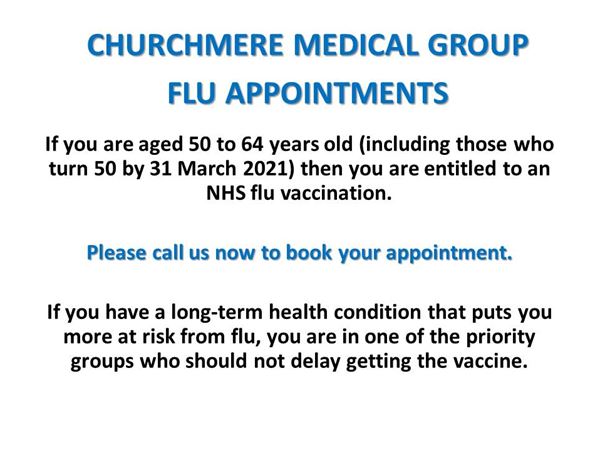 10th Dec 2020
Flu appointments for 50 to 64 years old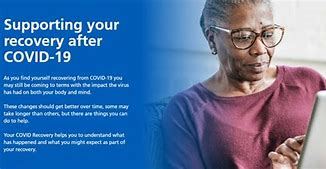 12th Nov 2020
Supporting your recovery after COVID-19
Have you had COVID-19? If so the link below is a new online support to help you understand what has happened and what you might expect as part of your recovery.
6th Nov 2020
What is an eConsult?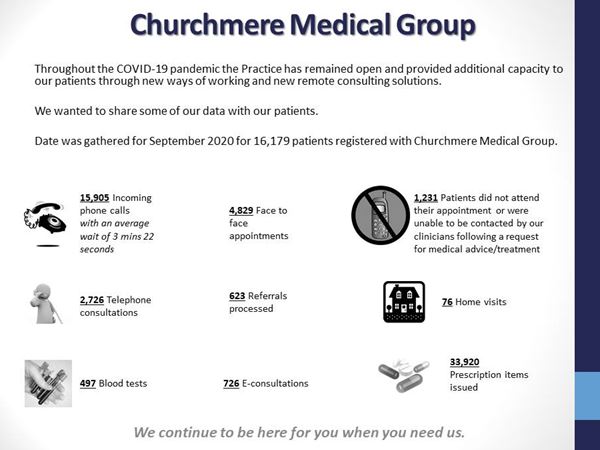 6th Nov 2020
Churchmere Medical Group Data September 2020
06.11.20 Please see the attached data for September 2020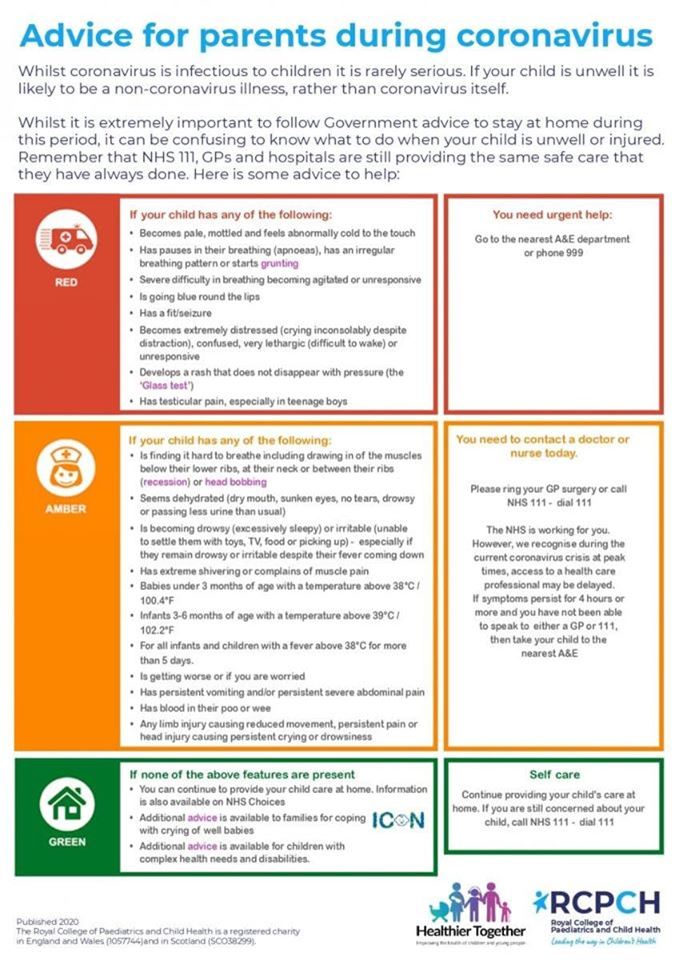 23rd Apr 2020
Advice for parents during coronavirus
23.04.2020 Please see the following from The Royal College of Paediatrics and Child Health
20th Mar 2020
Update 20.03.2020 - Coronavirus Frequently Asked Questions
What do I do if I think I have coronavirus infection?
Stay at home if you have either:
a high temperature – you feel hot to touch on your chest or back
a new, continuous cough – this means you've started coughing repeatedly
Do not go to a GP surgery, pharmacy or hospital.
You do not need to contact 111 to tell them you're staying at home.
Testing for coronavirus is not needed if you're staying at home.
Read the NHS advice about staying home, including how long to isolate for.
Use the NHS 111 online coronavirus service if:
you feel you cannot cope with your symptoms at home
your condition gets worse
your symptoms do not get better after 7 days
Use the 111 coronavirus service
GP appointments
All GP appointments will now be telephone consultations. Many issues can be dealt with over the phone but if it is necessary the clinician will arrange an appropriate face to face appointment.
Same day appointments
Any patients needing urgent clinical advice on the same day will be offered a telephone consultation. If necessary the clinician will arrange an appropriate face to face appointment.
Nurse appointments
Nursing / HCA appointments will continue as necessary. Please DO NOT to attend if you have viral symptoms on the day. Your appointment may be cancelled at short notice if guidance changes.
Ordering Repeat Prescriptions
We are asking patients not to drop off their repeat prescriptions at the practice, please use one of the following to order your repeat prescription:
Calling Prescription Ordering Direct 0333 358 3509
Prescription Ordering Direct email shropshire.pod@nhs.net
Using Patient Online Access
If you email shropshire.pod@nhs.net please can you provide the below information:
Registered GP Practice
Full name
Date of birth
First line of address
Name of drug, strength, dose, formulation
Dispensary or nominated pharmacy
Contact number
Please note that Churchmere Dispensary is open as normal to collect your medication.
Replies will not be sent to repeat prescription requests emailed to churchmere.admin@nhs.net
Please see below message from the CCG's Prescription Ordering Direct service:
"The Shropshire, Telford and Wrekin CCG's Prescription Ordering Direct (POD) service has been experiencing a huge increase in demand. For example, on Monday the Telford and Wrekin POD service received more than 15,000 calls compared to the usual number of just over 2,000.
We would like to remind people that there is absolutely no need to order your prescriptions earlier than usual, or order more than you need and stockpile. Patients should continue to order their prescriptions as normal, when they are due. We're also seeing a knock-on effect at our local community pharmacies who are also under a lot of pressure.
We would like to thank all our patients for their cooperation during this time."
If I have to self-isolate, what about my medication?
Medication requests will continue to be dealt with in the normal way, and we will be only issuing enough medication for one month at a time. If you DO NOT use our dispensary prescriptions will be issued electronically to pharmacies, so please identify a nominated pharmacy when you request your medication.
I am off work because of coronavirus. I need a sick note. What shall I do?
If you have to stay off work because of coronavirus you can get an Isolation Note via the following link https://111.nhs.uk/isolation-note/
My baby has immunisations booked. Will they go ahead as normal?
For the present time, we will endeavour to continue with routine immunisation of babies. Please do not attend if the baby, or its caregiver is unwell with cough, or fever or breathlessness. Please keep to a minimum the number of people accompanying the baby to the appointment.
How do I book a 6 week postnatal check?
Please contact us once you know the date of your baby's immunisation appointment, and we will endeavour to arrange the check at the same time as the immunisations.
I have an appointment booked with the Mental Health Practitioners. Should I attend as usual?
Our Mental Health Practitioners are offering all appointments to be to telephone/video consultation. They will then arrange an appointment in practice for any patient that needs to be seen face to face.
Please see below message from our Mental Health Practitioners:
Coronavirus Viral Anxiety Management
Be Your Own First Responder
If you have too much anxiety, stay away from the news and reading posts.
Read and surround yourself with information that is uplifting.
Find "grounders" amidst all the electric energy: person, place, object, activity, quote or mantra.
Think of what you have control over.
Create a temporary new routine/ritual to help you feel safe.
Continue to prioritise your physical, mental, social and emotional well-being through routines and practices.
Take deep belly breaths (in through nose 3 seconds and out through mouth 5-7 seconds). Longer outbreath stimulates the parasympathetic nervous system which are the brakes to slow down anxiety.
This too shall pass.
Remember that so many others may be suffering even more than you. How can you stay grounded so you can ground others and be a reducer, not a producer of the viral anxiety and panic
Think before you post or speak – will this create calm or chaos?
Please see below some helpful website links from our Mental Health Practitioners:
https://www.psychologytools.com/articles/free-guide-to-living-with-worry-and-anxiety-amidst-global-uncertainty/
This website may be useful for those struggling with OCD throughout this time https://iocdf.org/covid19/
I have been requested to supply my blood pressure readings from home. How do I do this?
You will need to purchase a home blood pressure monitor. There are many different kinds of monitor, but it is easiest to use a monitor that is fully automatic (digital). Choose one that measures your blood pressure at your upper arm, rather than at your wrist or finger.
The following form is available online to submit your readings:
Home Blood Pressure Monitoring Instructions
You can email the form to churchmere.admin@nhs.net and we will contact you if further action is needed.
16th Sep 2019
PATIENT SURVEY 2019
You Said, We did!
You were not aware we offered extended access appointments ---> We promoted this on community facebook groups, on our website and on TV screens within the practice. We also added a message to the right hand side of prescriptions.
You were not aware of Online Access e.g. ordering medication online ---> We will add standard information to the bottom of letters/texts that are sent out to patients. We will also make patients aware when they call the practice for test results.
You were not aware of Online Access e.g. ordering medication online ---> We will add standard information to the bottom of letters/texts that are sent out to patients. We will also make patients aware when they call the practice for test results.
Sometimes you ask for a GP but are given a Nurse appointment ---> When a patient raises this query Patient Services Advisors to explain that this is how the practice manages urgent appointment demand. We are also looking to create some information to go up in the waiting rooms to educate patients about why this is necessary.
You did not want to be kept waiting for your appointment ---> We created information to explain why clinicians sometimes run late. This is shown on the TV screens in each waiting room to help educate patients as to why this is sometimes unavoidable.
You would like childrens toys in the waiting room ---> Sadly, due to infection prevention standards it is not something that we are able to offer in our waiting rooms.